Bernard Spier, M.D., F.A.A.O.
Cataract & Implant Surgery, LASIK,
Diabetic Eye Care & Glaucoma
Education and Training

Board certified in 1989, Dr. Spier has trained at some of the most prestigious American institutions. He was an undergraduate at Brandeis University, and attended medical school at UMDNJ. Residency included positions at Thomas Jefferson University Hospital, Yale-New Haven Hospital, Boston City Hospital, Brigham and Women's Hospital, and Harvard's Massachusetts Eye and Ear Infirmary.

After completing this training, Dr. Spier practiced ophthalmology in Rhode Island with one of the world's most renowned cataract and refractive surgeons. During his four years there, Dr. Spier performed thousands of surgical and laser procedures using the most "cutting edge" technology. Dr. Spier joined the Northern New Jersey Eye Institute in 1992, and became partners with Dr. Norris in 1994. Since Dr. Norris' retirement in 1997, Dr. Spier has been the senior ophthalmologist at the Institute.

Developer of Rapid Vision Cataract Surgery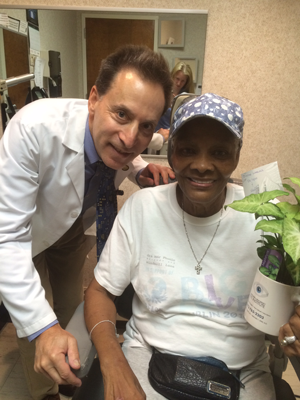 Dr. Spier employs the latest techniques in cataract and implant surgery. He uses the Rapid Vision™ method, whereby no needle, no stitches and no patch are required. Patients are pain free during the five to ten-minute procedure, since only anesthetic drops are used to numb the eye. Most patients walk out of our in-office surgery suite without an eye patch, seeing better and able to resume their normal activities immediately. Dr. Spier has extensive experience with accommodating implants such as the Crystalens, Restor, and Technis Multifocal, reducing dependence on reading glasses.

Having performed over 10,000 cataract and implant procedures over the last 20 years, Dr. Spier has the experience to provide the highest level of eye care. He has special expertise in "difficult or complicated" cataract procedures and one-eyed patients.
Dr. Spier performed Dropless Cataract Surgery
on our "celebrity" patient, Dionne Warwick
Introduced Refractive Surgery to the Institute
Dr. Spier brought refractive surgery to the Eye Institute in the 1990's with RK and PRK, when these procedures were first being introduced in the U.S. He is the co-director of refractive surgery. Now he performs iLASIK for nearsightedness, farsightedness, and astigmatism, the most advanced custom laser correction procedure available. iLASIK has been approved by NASA and the military for their personnel. This procedure is all-laser, no blades are used. He also implants the Verisyse implant for patients with extreme nearsightedness, who are not candidates for LASIK. Click on iLASIK or Verisyse for more information, or call for a free consultation.
Extensive Glaucoma and Diabetes Experience
Dr. Spier cares for thousands of glaucoma and diabetic patients, having one of the largest glaucoma practices in N. J. He is highly experienced in preserving and improving the sight of these patients using laser treatments and medicine.

Director of Mission Cataract at NNJEI
Dr. Spier was the first eye surgeon in New Jersey to participate in Mission Cataract, a national program which provides free cataract and implant surgery to those who have no means to pay. This has become an annual project at the Institute.

Teacher and Humanitarian
Dr. Spier is a clinical instructor at the University of Medicine and Dentistry of New Jersey. He trains eye physicians at the UMDNJ Ophthalmology Residency Program. In 1992, Dr. Spier was invited to lecture at Beijing Hospital in China on the latest developments in cataract surgery. While there, he instructed doctors on the technique of removing cataracts by means of phacoemulsification, through a small incision.

Dr. Spier was also invited to an eye hospital Nepal in 1996. Nepal is a third-world nation north of India and south of Tibet, home to Mount Everest and the Himalayan Mountains. While there, he performed several hundred cataract and implant surgeries under the most challenging conditions.

In 2006, Dr Spier traveled to Grenada, West Indies where he performed the first small-incision cataract surgery done on the island. He also worked with the local doctors in St. Vincent. 
Dr. Spier, a natural communicator and dynamic speaker, gives many lectures to professional and civic organizations throughout New Jersey. He has also appeared on several local and national television programs, explaining advances in eye care.
In March 2012, Dr. Spier traveled to Grenada, West Indies for his second mission. He traveled there with Kristin Connolly, COA, one of the surgical technicians from the practice. Dr. Spier is involved in developing an on-going eye care program for the island nation. Dr. Spier will be leaving for another Grenada mission in December 2013.

Native New Jerseyan
Dr. Spier's close relationship with family influenced his decision to return to his native New Jersey. He resides in Maplewood and Manhattan. He has many friends and relatives throughout the northern New Jersey area.He is an avid tennis player, cycling enthusiast, and metal sculptor.
Dr Crane meets one of his favorite Sharks, Daymond John, at a book signing!